It's difficult to summarise my time in Fiji. As with many powerful experiences it consisted of long periods of inactivity punctuated by episodes of learning, interaction and observation. I arrived in the aftermath of the strongest cyclone to ever hit the Southern Hemisphere, Cyclone Winston, and this extreme weather event influenced every aspect of my visit.
Fiji is a nation of islands in the Pacific that was first settled by mariners who voyaged eastward in large canoes. The trajectory of the settlement of the Pacific Islands can be traced through pottery styles and language groupings, and through these we know that Fiji was a hub from which the last places on earth to be inhabited were reached (like Hawai'i and Easter Island). The main island of Viti Levu, where I was based, is hot, humid and beautifully tropical, with white sand beaches and forested highlands.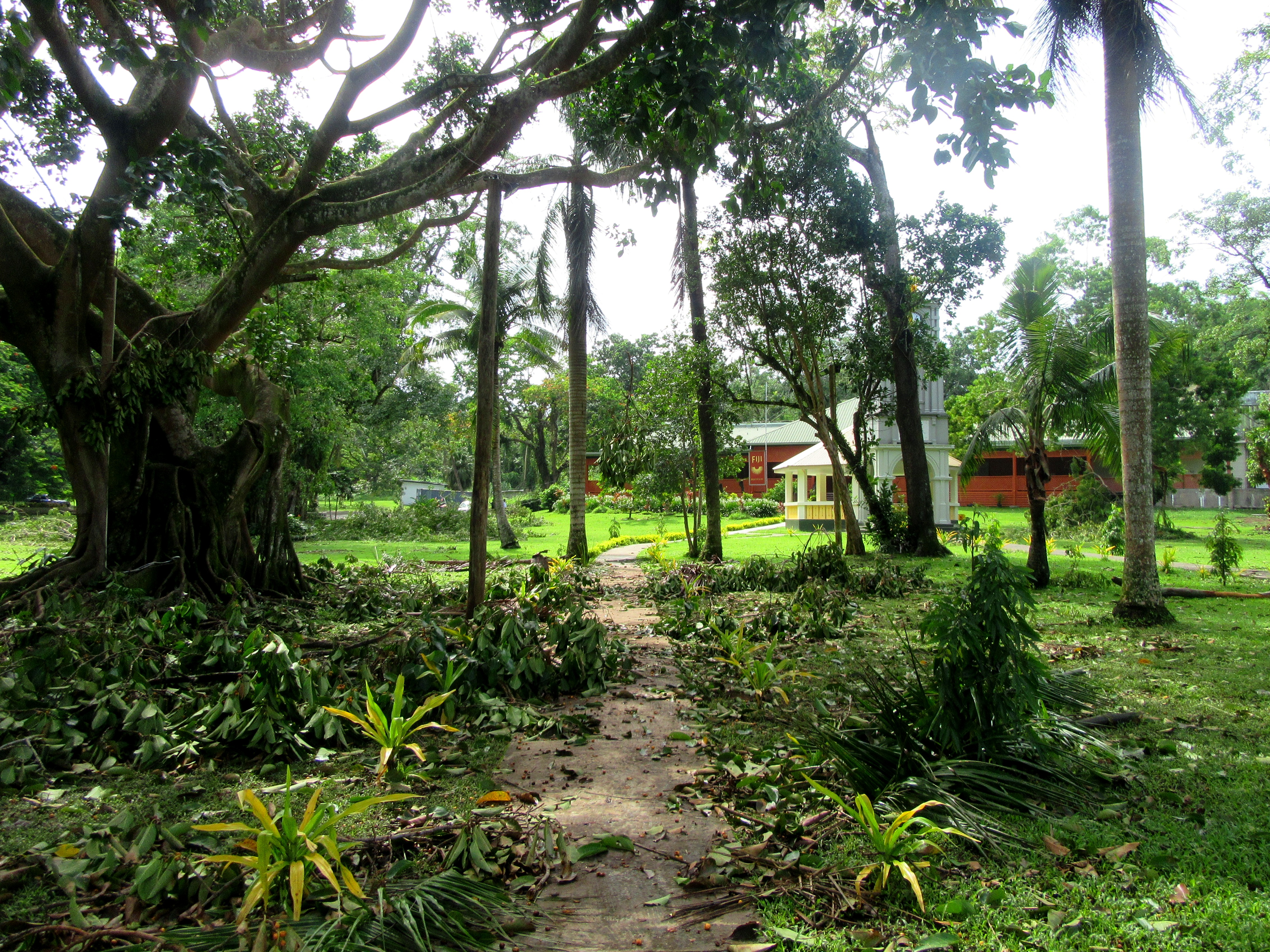 My mandate in Fiji was to work with the Archaeology Department of the Fiji Museum in Suva. They would show me the ropes of doing archaeology in Fiji and, when I could, I would recommend ways to improve their fieldwork and report writing. Due to the cyclone, and the state of emergency the country was under, my first few weeks consisted of museum visits, re-boxing and cataloguing pottery, and catching up on my writing! I was able to see some of the area immediately around Suva, and even attended a wedding. Only essential personnel were wanted in the areas of Fiji most affected by the cyclone, so I sat tight, waiting to see if we would get to do any fieldwork at all.
Eventually we got the go-ahead! We spent seven days traveling west along the coast doing post-cyclone damage assessments on known archaeological sites. These spanned everything from sites under the management of the National Trust of Fiji, like the Sigatoka Sand Dunes, to 'old village sites' that communities had requested we investigate. In those few days I was shown the entire spectrum of Fijian archaeology, from the site of the earliest known settlement (Bourewa, c. 3100BP / 1150BC), to the influence of Tongan warlords (Tavuni Hill Fort, c. 1800 AD), to WWII defensive structures like the Momi Battery (c. 1941 AD). The archaeology and cultural traditions I saw are fascinating! I'm sure I tested the patience of my Fijian colleagues with the sheer number of questions I asked.
Three main things stand out to me from this week of fieldwork: the sevusevu, Sigatoka, and Tau Cave. The sevusevu is the traditional kava exchange ceremony that acts as a way for visitors to show villagers respect and ask permission to access their land. Sometimes foreign archaeologists do fieldwork without first doing the sevusevu and these transgressions and the offense they represent are not soon forgotten. Hopefully by showing my gratitude for their acceptance and respect for their traditions I was able to make up for such an incident in one of the villages I visited.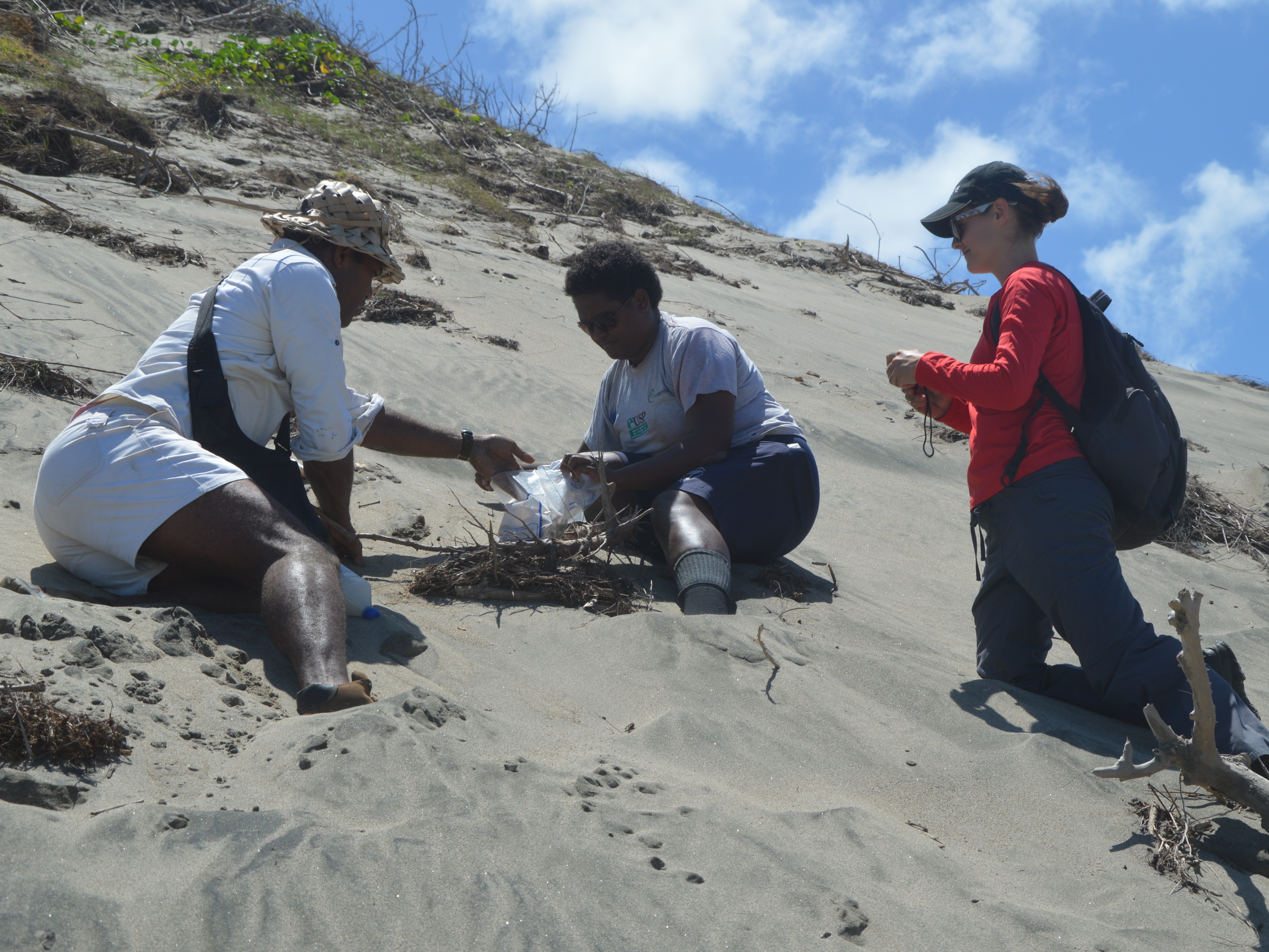 The rescue excavation of two human skeletons from the Sigatoka Sand Dunes was unforgettable. This was one of the occasions where I was able to lend my experience to the fieldwork practice of the Fijian archaeologists I was working beside. When we were onsite we discussed the process of excavating human bone and later in the museum went over a few things they could put in place to make the process more standardised and physically easier the next time. Because, unfortunately, these extreme weather events are getting more frequent and more and more archaeological material is being exposed this way at the Dunes.
Without question, Tau Cave was the icing on the cake. Not only is it one of the only known inland sites that has Lapita pottery, evidence of the earliest settlement of Fiji, but it is located towards the summit of a very high hill with an almost vertical slope. When the first test pits were excavated here the archaeologists and palaeontologists had to trudge three hours uphill to the cave mouth. These days the cave is reached by zip-line (Zip Fiji)! I'd never been on a zip-line before and we traversed sixteen to get up and down! It was an exhilarating way to reach an archaeological site and the cave itself was no disappointment once we got there.
Even though Cyclone Winston permeated every element of my time in Fiji I was always aware that I was being sheltered from its true extent by my friends and colleagues. The level of poverty I saw in the cities and villages was already a slight shock to me, so I struggle to imagine the utter devastation of homes and livelihoods on the offshore islands that were heavily hit. Cyclones are a common occurrence in the Pacific islands, but Winston was particularly nasty. Yet, the Fijian people continue to persevere and rebuild, as their ancient ancestors did and their descendants will.
There is still a need to help Fiji recover from Cyclone Winston. If you are interested in making a donation two good options are the Fijian Prime Minister's National Disaster Relief and Rehabilitation Fund for Cyclone Winston and the Red Cross's Tropical Cyclone Winston Appeal.
Fiji and the Fijian people had a lasting effect on me. Their positive outlook on life is truly inspirational. Vinaka, sota tale! Thank you and see you again!